Story below is an early draft version that will be updated as more information becomes available. Be sure to check back later for additional background, context, and unique analysis.
As Case Rapidly Unfolded, Questions Arose Amid Conflicting Information
UPDATE: While this report was being prepared, WJZ reported Gregg Thomas turned himself in. But not before apparently granting an "exclusive" interview.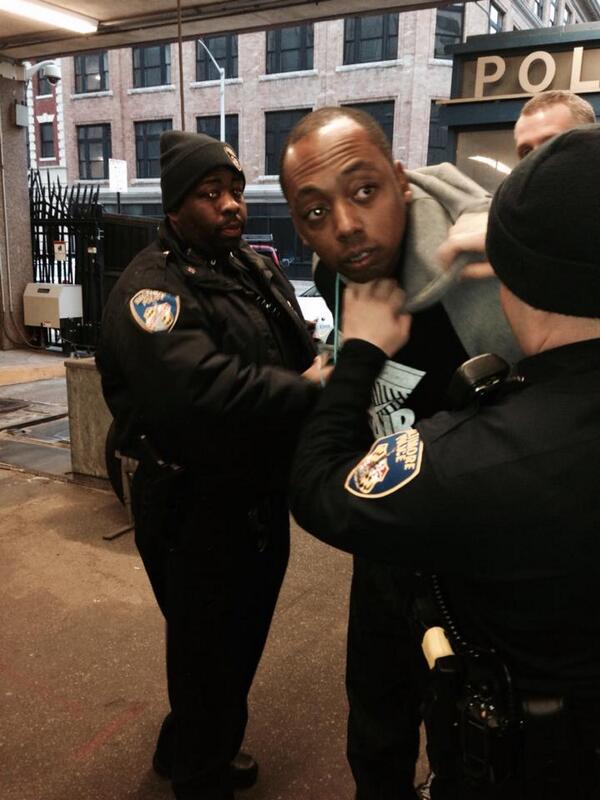 CAPTURED: Wanted fugitive, Gregg Thomas, the subject of a city-wide manhunt, wanted for
allegedly shooting off duty Baltimore Police Officer Sgt. Keith McNeill,turned himself in to
police and was arrested without incident Sunday evening. Photo by Rochelle Ritchie/WJZ
@cbsbaltimore Exclusive interview with Gregg Thomas, coming up at 11. WJZ is there as he turns himself in, tells me he did not shoot anyone
— Rochelle Ritchie WJZ (@RochelleWJZ) March 16, 2014
A newly promoted Sgt. Keith McNeill
pictured with his mother, during
promotions ceremony.
Sunday night Baltimore Police ended a massive manhunt in connection with the severe shooting of off-duty
Sgt. Keith Mcneill, when the wanted suspect turned himself in.
According to Police Commissioner Anthony Batts, McNeill was shot early Friday night while sitting in his personal vehicle on the 1900 block of Belair Rd.
Referring to incident as a
"cowardly act of violence," in a briefing Saturday night, the Commissioner vowed to use every means available to track down whoever was responsible for the attack. McNeill was described as
"taking care of basic, domestic personal business," according to Batts. He declined to elaborate further.
Suspect Named
During the briefing, police said they were seeking Gregg Thomas, aged 34, as a person of interest in the shooting. A flyer released said he was "wanted for questioning only." Within a couple hours, Baltimore Police tweeted an update stating Thomas was now a "suspect" in the shooting and there was a warrant for his arrest.
No specifics were given on the exact charge(s) on the warrant, nor what transpired to change Thomas' status from "person of interest" to "wanted suspect" inside a couple of hours.
Baltimore Police have not revealed what led to such quick determination and identification of Thomas as a suspect.
BOLO = Be On the Look Out. For what?
Typically descriptions of the wanted suspect and
information on the crime committed are
considered crucial on an intelligence bulletin.
Particularly one handed out to the general public.
Adding to confusion was a flyer (pictured) handed out by police officers to cars at the intersection of E. North and Belair Rd., in the area where the shooting took place.
Although at the time, the suspect was already named, and his picture had been released, a vague, lacking detail, indistinct bulletin was being issued to passersby. It is difficult to imagine how helpful those efforts could be, particularly to someone wholly unfamiliar with the incident.
Located near the intersection of E. North Ave and Belair Rd., adjacent to the landmark Baltimore Cemetery, save for a liquor story, a gas station, and a nearby methadone substance abuse program clinic, few businesses seem to be in operation in the area, particularly on the block where McNeill is said to have been sitting.
With a known history of heavy narcotics trafficking and extreme levels of violence in the vicinity and immediate surrounds, speculation and theories of what the off duty officer may have been doing in the area, have exploded on internet social media chatter.
Confusion Of Conflicting Information
Wounded officer was off duty last night at the time of the shooting taking care of "personal" business. He was "targeted"
— Jayne Miller (@jemiller11) March 16, 2014
Initially police had called Sgt. McNeill a "bystander" who was shot. The message quickly turned to him being "targeted." Despite vague media statements alluding to McNeill possibly being targeted due to his occupation, police have made no such determination, and stress it is still an active investigation, without any conclusion to motive as of this time.
Early media reports were worded in such a way, giving the impression of the officer being shot in the line of duty. This too has been determined to be clearly not the case.
The Baltimore Sun
quoted Fraternal Officer Of Police president, Det. Bob Cherry, as saying he believed McNeill worked an administrative assignment in the Eastern District Station.
Throughout the city, SWAT officers conducted numerous raids in the search for Gregg Thomas. Batts has vowed they will not stop, and will remain relentless. A stern warning was issued to anyone hiding or harboring Thomas, as Batts declared him to be "Public Enemy Number 1." Numerous individuals have been detained for questioning in regards to the shooting.
More On McNeill
Recently turning 41, Sgt. McNeill has spent 19 years on the force and is married with children. A city native, and graduate of MERVO High School.
McNeill is a semi-professional motorcycle racer and an avid fan of the Baltimore Ravens.
At time of publication, McNeill condition was reported to be in critical condition of University of Maryland Shock Trauma Center.
Commissioner Batts described a semi-conscious, unable to speak McNeill, acknowledging his presence by nodding his head and giving a thumbs up.
------------------------------------------------------------------------------------------------------------
Researcher, independent investigative journalist, and entrepreneur, A.F. James MacArthur has been a member of the underground news network for over 20 years. During this time, he's been a frequent subject of attack by government officials under the guise of law enforcement. Although closely watched and followed, he's often boycotted from being given any credit for his work by mainstream media.
----------------------------------------------------------------
Get Better Connected With Me