January 2015, One Of The Most Murderous Januaries In Recent History
31

January 2015
By A.F. James MacArthur
Agitator-In-Chief
@BaltoSpectator

The bitter cold Friday night, accompanied by a bone chilling strong breeze, was not enough to make Baltimore's violence chill out.


With the victim's blood along with some of his clothing still on the sidewalk (towards the left between the stop sign and police car), Baltimore Police investigate shooting scene at N. Bentlou and W. Fayette Streets. /MACARTHUR MEDIA

Two men were shot Friday, adding to the city's already horrific toll of violence this January. Saturday morning Baltimore Police confirmed one man had died. The other had injuries so severe, homicide detectives were called to the scene.


Incident Number One

After a relatively quiet day, Baltimore Police received a call for a person shot on the 3000 block of Liberty Heights Ave. When officers arrived at 6:40 p.m., they found an 18 year-old man suffering from an apparent single gunshot wound to the head.

Homicide detectives were called to the scene to investigate.

Although not pronounced dead on the scene, the man was transported to an area hospital. His official status had him listed in critical condition, but late Saturday morning police confirmed he died of his injuries.



The Baltimore Spectator arrived on scene within minutes after the shooting happened.

Listen to The Baltimore Spectator's initial reported, recorded live on scene.


Liberty Heights was shut down in both direction at the intersection where Dukeland meets Wabash, while police searched for evidence.

With an expansive vacant field on one side, and a large church -- taking up the entire block -- on the other, the immediate vicinity of the shooting has the feel and appearance of a relatively desolate place, compared to many other areas that have been the scene of violent crime.

Police have released few details on the circumstances surrounding the shooting. No motive or information of a possible suspect was given. The victim's identity has not been released.

In 2014, only 45% of all murders were solved.


Incident Number 2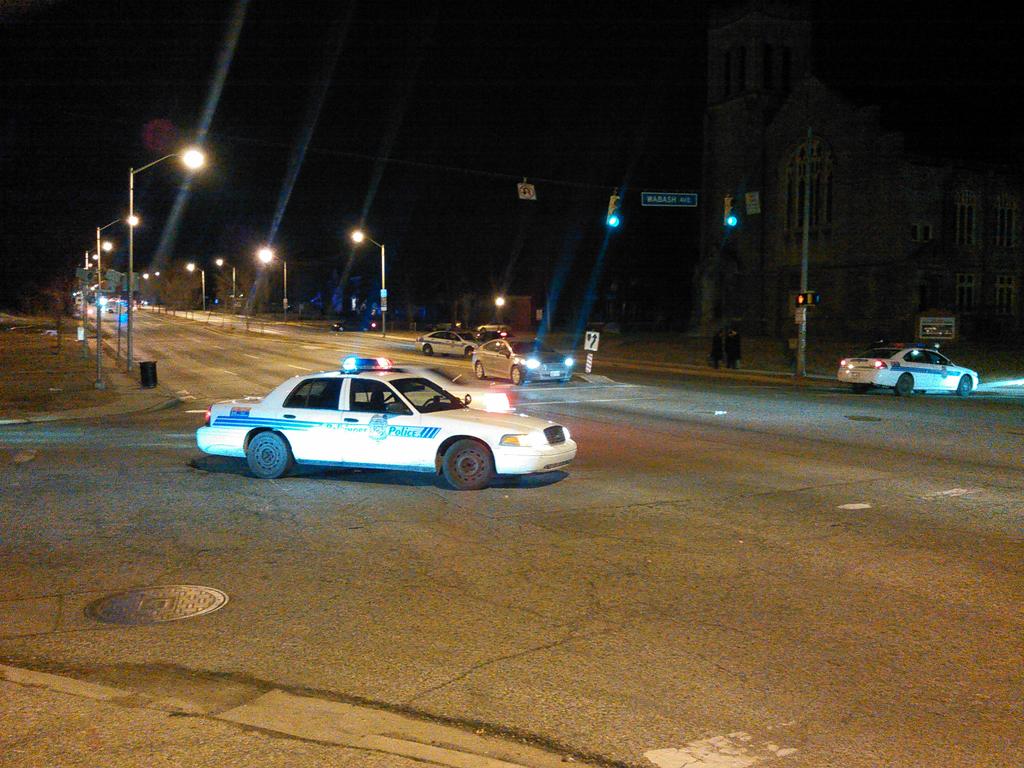 Several hours after the Liberty Heights shooting, The Baltimore Spectator returned to the area attempting to gain further insight into the incident. A short time after arriving back on that scene, the second shooting of the night took place.

A few minutes after 10:00 p.m. Friday, police were dispatched to the intersection of N. Bentlou St. and W. Fayette St.

Upon arrival, officers found a man suffering from multiple gunshot wounds.

An area resident told The Baltimore Spectator she believes she heard at least five or six shots fired.

Witnesses describe seeing the man laying lifeless on the sidewalk before officials arrived.

He was transported to an area hospital. Like the other shooting of the night, the man's injuries appeared so serious, homicide detectives were called to the scene.

On Saturday morning his last known official status was listed as critical condition.

Like the majority of shootings and murders taking place in Baltimore; police have stated no known suspects or motives. The victim's identity has not yet been released.


With less than half of all murders that happened last year being solved, so far this year, it seems unlikely Baltimore Police will be able to show much improvement.

If the second Friday shooting victim dies, it brings the total murders for the month of January to 23. One of the highest amount of killings ever seen in January.

There is a common perception that violence tends to slow down in the winter months; however, this January, and last January, show no indication of any such winter slow down.





-

-----------------------------------------------------------------------------------------------------------
Researcher, independent investigator, and entrepreneur, A.F. James MacArthur is Baltimore's most well known independent journalist contributor.

A

member of the underground news network for over 20 years. During this time, he's been a frequent subject of attack by government under the guise of law enforcement. Although closely watched and followed, he's often boycotted from being given any credit for his work by mainstream media.
----------------------------------------------------------------
Get Better Connected With Me
Email MacArthurMedia@gmail.com, @BaltoSpectator on twitter, Spreaker web radio, BlogTalk Radio, Baltimore Spectator on Facebook, YouTube channel