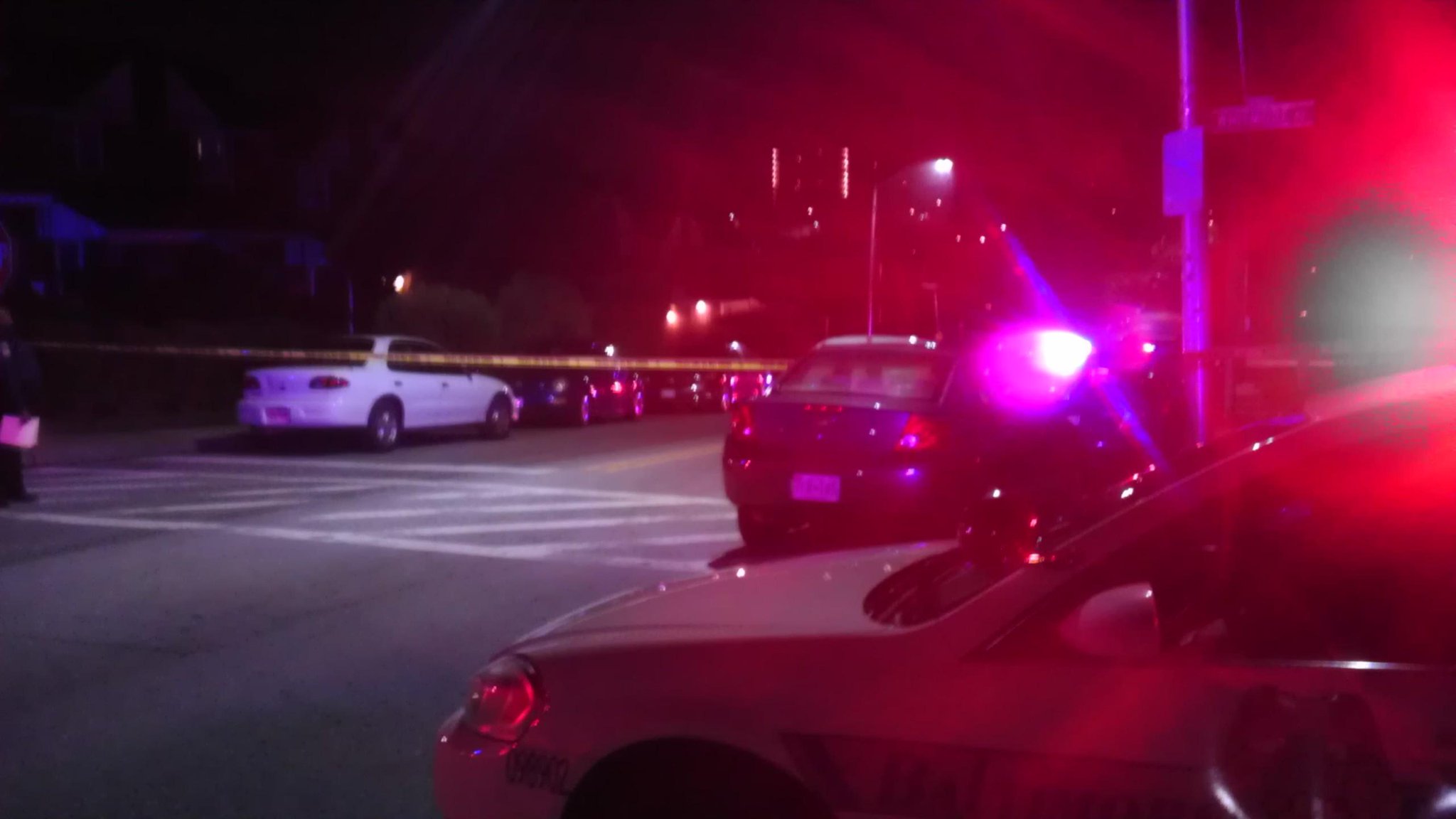 Story, photo and audio by A.F. James MacArthur
City saw five shot in two hours.
Two men are dead and a woman is injured after a home invasion in West Baltimore. The incident took place on the 2500 block of W. Lafayette Avenue.
Baltimore Police and Baltimore City Fire Department paramedics arrived on scene late Tuesday night, at virtually the same time. A scene of sheer carnage was described by witnesses. Copious amounts of blood and brain matter splattered all over the living room of the house.
The incident began when two armed masked men kicked the door in. Once inside the main level of the home, they summoned for two young men who were upstairs in the residence at the time. The two young men, brothers, ages 19 and 23, were ordered to sit on the sofa.
According to sources with first hand knowledge of the incident, the victims were approached by the gunmen after sitting down. At that point both gunmen placed guns to the heads of their victims and shot them at point blank range, execution style.
The mother of the men received a bullet wound to the face. Her wound was described as a possibly grazing. She is not believed to be in life threatening condition. All victims were transported to an area hospital. The two men were dead on arrival.
Sources told
The Baltimore Spectator,
there were young children present in the home during the incident. It was not certain whether the children were eye witnesses of the murders or if other adults were present in the home. No information was provided on the status of care and supervision of the children in the aftermath of the shootings.
Baltimore Police have not named any known suspects or motive.
Earlier Double Shooting
Earlier Tuesday night, police responded to a local emergency room for a report of two "walk in" shooting victims. Investigators discovered a man and a woman suffering from gunshot wounds. Initially the original location of the shooting was not clear, but was determined to have taken place in the 2100 block of Callow Avenue.
Monday Also Had A Double Shooting
Baltimore police continue to investigate a double shooting that occurred Monday night in the Mondawmin neighborhood that left a man and a woman hospitalized.
The man suffered multiple gunshot wounds and the lady had a single gunshot wound to the leg. She told police she was shot in the 2000 block of McKean Avenue.
HEAR LIVE, ON SCENE REPORTING BY JAMES MACARTHUR
Part 1: Triple Shooting on scene report
Part 2: Triple Shooting, more info
Part 3: Final update, triple shooting
-----------------------------------------------------------------------
For the last several years, A.F. James MacArthur has been the established leader in on-scene, feet-on-the-street, Baltimore crime and emergency incident reporting. Baltimore's premier independent crime correspondent and street reporter, is a multimedia journalist who also covers urban decay and public corruption. He may be reached at 410-205-NEWS (6397) voice or text message, MacArthurMedia@gmail.com, and followed on numerous social media, including: @BaltoSpectator on twitter , Spreaker web radio, BlogTalk Radio, Baltimore Spectator on Facebook,YouTube channel