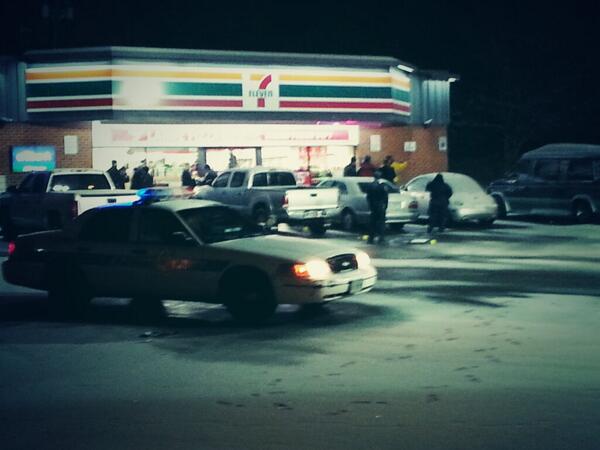 Prior to harassing a Baltimore Spectator reporter,
Baltimore
Police investigate a police involved shooting.
Photo by James MacArthur/MacArthur Media
CORRECTION: Initial information indicated both suspects were shot and killed in the second incident involving police impersonators and a home burglary. At this point only one suspect is confirmed dead. The status, condition, and identification of the other man is still unknown. Baltimore Police have not provided the information. 3 February 2014
In most cities,
two police involved shootings, just a couple hours apart
would be major news. But in Baltimore, apparently we're easily impressed, so when it snows in winter, it's time to drop all real reporting, and pretend endless repetitive chatter about snow is insightful and informative.
Despite police clearly stating the robbery suspect at the 7-11 near Mondawmin on Liberty Rd did not have a gun, the fact that he was shot while posing no threat to safety, will likely be quickly overlooked and given a pass with the consent of the media.
After all, he was a criminal. This is Baltimore. Aren't we supposed to shoot them?
Meanwhile, in classic Baltimore Police fashion, everything came to a screeching halt once
The Baltimore Spectator
arrived on scene to cover the story. It is notable, no other journalists on location were harassed, intimidated, or threatened by Baltimore's gestapo, jackbooted thugs.
Agitator-In-Chief, James MacArthur, expressed his severe disappointment to Commissioner Batts in an open letter.
Briefing on shooting delayed because police are trying to calm down the Spectator, who is upset about being told not to stand on a hill
— Justin Fenton (@justin_fenton) February 13, 2014
It would be nice to see more of the real police on our streets, the ones worthy of the title officer. The rest, best be gone. They continue to destroy all credibility and relationships with the community.
Despite the grossly inaccurate, cavalier downplaying and marginalizing by
Baltimore Sun
reporter Justin Fenton, of what was a very serious and unwarranted encroachment by police who should have been focused on investigating and incident, we remain undeterred..
As citizens and a journalists, there is no reason to sit quietly and take abuse from government official who are supposed to be serving us all.
A Crappy Ending... To A Life
No one envisions their expired earthly body being discovered in a place where human waste is deposited.
Like the day before, Wednesday started with a first-thing-in-the-morning bonus body. What is a bonus body you ask? It's when a random dead body is found, and there's no immediate connection to a known or reported crime.
A mans body was found in a porta potty in the 900 block of Thames St. near Wolfe St. Wednesday morning in the Fells Point community. Although we're told homicide detectives are investigating, there was no word on the circumstances or whether foul play was suspected. This being Baltimore, we're suspicious.
With over 30 murders, plus 4 police involved shootings this year, those homicide guys are really busy. Don't expect to hear much from them any time soon. After all, half of the murder happening here are never ever solved.
Perhaps dead bodies being found has become so routine (we've had three since last week), that's its no longer news here, but if you're looking for an article on this incident, good luck. There are none. Our initial searches indicate the Baltimore press corps has little interest in this one. For now. After all, it is winter, and it's snowing.
As we pointed out yesterday, when the day begins this way, lookout, it's a sure sign of oncoming chaos. And the day surely delivered.
Also on Wednesday...
BREAKING NEWS: White People Discover It's Dangerous In Baltimore
An overcapacity crowd, filled with angry, pissed off people,
showed up to give the Mayor and Police Commissioner
On the heels of all the hoopla created after certain parts of the city suddenly started standing up and speaking out on the epidemic of violence, a hugely attended community meeting on crime in the community was held in Southeast Baltimore.
Although crime has plagued this city for decades, and the police have never been real effective in dealing with it, it's now trendy to demand a more responsive and committed police force in the city.
Basically, the stuff that's been written about in these pages for the last five years is starting to catch on.
Highlights from the meeting:
Commissioner Batts: "Some of the things that are taking place
in this community
should not be happening."
For her part, Mayor Stephanie Rawlings-Blake said
"I am focused … on action and finding partners who are doing more than complain."
Translation, I really don't want to hear about your problems so save it.
Of course, nothing was said about things happening in other communities in the city.
Kudos to Del. Luke Clippinger, who organized the meeting and said the area's problems reflect broader issues in a city with a climbing homicide rate. We're glad the delegate is paying attention and showing concern, but shouldn't this meeting have been called by a city council member? Make them earn their keep!
Related articles