After Seven Days Of No Reported Shootings, Violence Returns To Baltimore
With no shootings yesterday, it's been 7 days since someone was shot in Baltimore, the second time that's happened in the past month
— Justin Fenton (@justin_fenton) March 9, 2014
Apparently death by stabbing doesn't count. During this same time period, 17-year-old Jowan Henry was stabbed and killed, after an argument Saturday night in the 2600 block of Mura St. The third juvenile murder victim this year.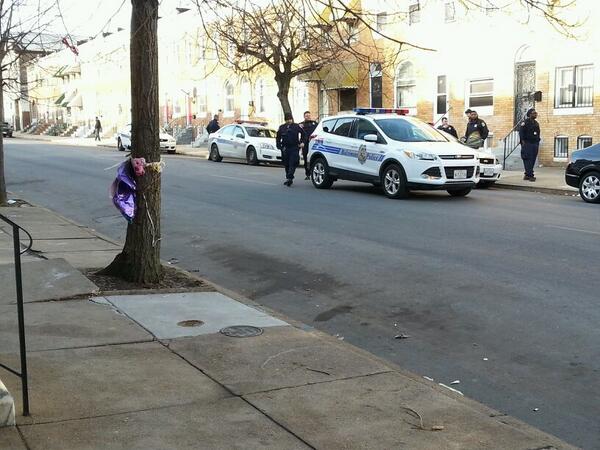 A street corner memorial marks the spot of a prior
murder, as police investigate after a man was
shot multiple times Sunday, on the 2500 block of Druid Hill Ave.
A man was shot multiple times Sunday afternoon in the 2500 block of Druid Hill Ave in West Baltimore. Although unconfirmed, according to the first initial tweet breaking the incident, by Baltimore Metro News, the victim is said to be 28 years old.
BALT CITY | SHOOTING | 2400 BLK DRUID HILL AVE | 28 Y/O M WITH MULTIPLE GUNSHOT WOUNDS,
— Baltimore Metro News (@BaltMetroNews) March 9, 2014
The Baltimore Spectator
spoke to relatives of the victim at the scene. They indicated the man was still alive, being treated at an area hospital and was expected to survive.
A Wake Up Call For All Of Us
Details on the shooting are unclear, but apparently the victim may have been shot inside a home. A woman living at the house, peered out the window and said she was asked by police to remain upstairs while they processed and investigated the first floor of the home as an active crime scene. A young boy could be clearly seen looking outside through the same window. It is presumable he was a witness to the incident.
"This is a wake up call for me, you and everybody else." Resident [identity withheld] in house where shooting happened.
— Agitator In Chief (@BaltoSpectator) March 9, 2014
Police officials and crime scene investigators were seen going in and out of the house. There were no evidence markers indicating the presence of shell casing or other items related to a shooting on the outside.
The surrounding neighborhood is no stranger to violence. Among the trash strewn alleyways and vacant home lined streets, numerous homicides have taken place within the immediate vicinity over the years.
Multiple faded balloons and other artifacts could be seen tied to poles and street signs, marking the places where other victims have lost their lives.
Incidentally, it was over an hour after the incident happened before Baltimore Police tweeted the shooting. In typical fashion, few details were given. No word of a possible suspect or motive.
Shooting: 2500 Druid Hill Avenue, adult male shot multiple times. Dispatch time 4:36pm. District Detectives are investigating.
— Baltimore Police (@BaltimorePolice) March 9, 2014
File this under: routine, non-fatal Baltimore shooting. The kind of incident that will be lucky to literally get 15 seconds of TV time on the evening news. If any mention at all.
------------------------------------------------------------------------------------------------------------
Researcher, independent investigative journalist, and entrepreneur, A.F. James MacArthur has been a member of the underground news network for over 20 years. During this time, he's been a frequent subject of attack by government officials under the guise of law enforcement. Although closely watched and followed, he's often boycotted from being given any credit for his work by mainstream media.
----------------------------------------------------------------
Get Better Connected With Me
Related articles