Crime Reduction Needs More Substance Over Symbolism
By A.F. James MacArthur Ph.A.L.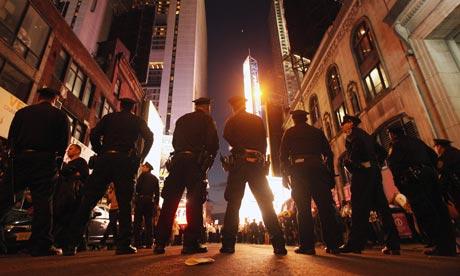 As the city continues to grapple with a sharp increase in crime, no one seems to have a ready solution, but at least leaders are finally acknowledging things are out of hand. This is no small feat. It was only a short time ago, we were stuck hearing a years repeated mantra that "overall, crime is down."
Reality has overtaken rhetoric.
At some point, the people of Baltimore stopped buying it. When this summers crime wave began, after 40 people were shot in less than two weeks, there was absolute silence from Mayor Stephanie Rawlings-Blake and her appointed police commissioner Anthony Batts. The one man who dared even say SOMETHING was fired. Why, because his message was out of sync with the latest illusion they're hoping to portray. He was reading from the old script.
All Anthony Guglielmi did was repeat what they've all been saying all along. But no one told him the script was being hastily rewritten.
A kinder, gentler Stephanie Rawlings-Blake.
(Tom Manzitti/Baltimore Spectator)
Enter The Mayor
After a brief stop in wardrobe and an appointment with makeup, we now have a new, kinder, gentler, more caring and compassionate Mayor. Showing up at walk after walk, and various rallies and vigils, Rawlings-Blake seems to be everywhere. Everywhere the people and the cameras are that is.
State's Attorney Gregg Bernstein and Police Commissioenr Anthony Batts have been riding the same bandwagon. What's missing is, beyond the symbolism, is anything truly different being done?
When the cameras are packed away, and the crowd has gone home, what will things be like in these war-torn neighborhoods?
I'm sorry, but merely putting a cop on every block, looking for a mythical thug under every rock is not a crime control strategy. There's zero evidence increased police presence has any lasting effect on reducing crime. What's needed is a whole new outlook and change in strategy, but no one's talking about this.
New Script Being Tested -- Community Cooperation
Now more than before, at every opportunity, whenever a mic or camera is present, city officials declare the solution to our problems is going to take all of us. They beg and plead for community participation, stating citizens have to work with police in order to make the city safer.
This may sound good on the surface, but what none of the leaders are saying is, police need to work closer with citizens. For years now, all of Black Baltimore has known, the Baltimore Police Department are more often part of the problem, than they are the solution.
Arriving on scene and treating everyone like criminal suspects and second class citizens is not how you win friends and influence people. Short shrift has been given to community complaints of police bringing misplaced aggression and needless escalation to many situations.
Cooperation is a two way street, and professionals paid and sworn to protect and serve would go a long way by setting an example and extending common courtesy in the community if they truly expect to accomplish anything of meaningful substance.
----------------------------------------------------------------------------------------------------------------------
After an unconstitutional imprisonment lasting 6 months, denied bail, tortured, assaulted and forced to endure inhumane conditions in the notorious Baltimore City Detention Center, A.F. James MacArthur, the original independent, established leader in on-scene, feet-on-the-street, Baltimore crime and emergency incident reporting
emerged undaunted and unafraid. Baltimore's premier independent crime correspondent and street reporter is a multimedia journalist who also covers urban decay and public corruption. Email MacArthurMedia@gmail.com, @BaltoSpectator on twitter, Spreaker web radio, BlogTalk Radio, Baltimore Spectator on Facebook,YouTube channel
Related articles