The story below comes from veteran media man Dave Ettlin. In the business over 40 years. I think Ettlin started when he was 10. Highlights, pics, links and subheads were added by The Baltimore Spectator.
-------------------------------------------------------------------------------------------------------------------
You should look for statistics on the number of missing persons in Maryland each year -- particularly in the larger jurisdictions -- with a focus on teenagers. There's a reason nearly all of them are ignored by the media, and that's the fact that most reported cases are the result of the 'missing' having decided to be missing -- to not come home -- and miscommunication, in which a kid tells someone in the household they'll be somewhere else, and the message gets lost in translation
.
There's also custodial matters that do not get conveyed in most police reports and are factors in one parent reporting a kid missing when the other parent or another relative knows where the kid happens to be. (By the way, the fact is that the missing kids rarely have their needed medication... but that doesn't make it a news story, either.)
"Print media these d
ays too often plays the same game -- making news decisions on what to run and where to put it in the paper based on what will attract readers, as opposed to what is important for readers"
Rarely, very rarely, does a missing person case involve foul play -- and if it does, the missing person is likely already a victim by the time the news media is asked for help. For the media, publicizing a missing person case, like that of the 15-year-old boy in Baltimore County, would open it for complaints by dozens and dozens of families about why report one and not another. Newspapers could fill a column or more of space every day with a collection of missing persons appeals. Soon, nobody would read it.

Most "amber alert" cases appear to be custodial in nature, not foul play -- and as a result, the public is apt to ignore them. It is about "crying wolf" too many times. Same for any other kind of missing person case. Too many cries, and the cries will become useless.
More often when a missing case gets attention it is the result of an appeal from the police asking for urgent help in a matter investigators believe to be very genuine and dangerous. That is a rarity.

Pretty White Girls
As for the "pretty white girl" syndrome -- no doubt that exists, largely the result of electronic media's tendency to play up what it deems to carry mass appeal that will generate viewers and ratings.
Print media these days too often plays the same game -- making news decisions on what to run and where to put it in the paper based on what will attract readers, as opposed to what is important for readers. Decisions of what is worth news coverage ought not be on the basis of demographics.
How To Move Media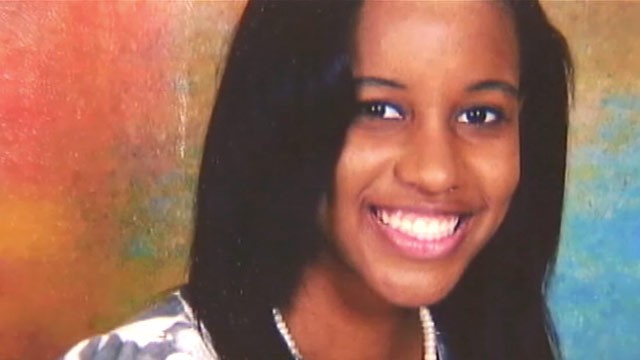 The Baltimore case of 16-year-old Phylicia Barnes comes to mind as one that was initially under-reported because it was a case of "missing black girl" -- although

pressure on police and the
media reversed that coverage and turned it into a major continuing story

, including national coverage, a big monetary reward, and her very pretty face on highway billboards. Historical disparity in reporting based on race was no doubt a factor that was played in gaining attention for the Barnes disappearance. But that did not prove a factor in finding her. Instead, her body turned up nearly four months later in the Susquehanna River. And police believe her death was hardly random -- eventually arresting and charging the ex-boyfriend of the victim's sister.
(Worthy of note, from Wikipedia: In 2012, a bill known as Phylicia's Law
[authored by Del. Jill P. Carter]
passed in the Maryland General Assembly... requires the state to publish a list of missing children
along with statistics, and a list of volunteers who can aid law enforcement in the search for missing children.)
This not to say the distress of a family is any less real when a child or teenager does not come home. But the distress within a family usually does not make it a news story. And if it were to be treated as a news story, I would want to know a lot more than what the police customarily offer to the media. I would want to commit an act of journalism to demonstrate that it is news.
Strange Things Happen
As a reporter and editor for 40 years, I resisted missing persons cases except for the rare bizarre, makes-no-sense disappearance. My favorite remains an aging white guy who went to visit his brother at the old Provident Hospital and utterly vanished. His car was found a few days later parked in a West Baltimore neighborhood, with a paid repair bill from a Westminster garage the only clue. Because of the evidence of travel between the city and Carroll County, it became a multi-jurisdictional investigation and police issued a call for help that included considerable detail of description and clothing, but to no avail.
More than a decade later, as I recall, state police reported the discovery of skeletal remains in Frederick County, and included a description of bits of clothing that sounded familiar to me. I checked the newspaper archive for my missing guy and -- bingo! I called the state police investigator and told him whose body had been found. I got a nice story out of it, and later a wonderful thank-you note from the man's son for helping solve, in part, the mystery of what happened. It was clearly a homicide, and probably the result of what at the time of the disappearance was becoming a trend crime -- carjacking. No arrest was ever made.
It was a rarity -- a missing person who really was, and uniquely so. The true mystery was news when the man disappeared, and news again years later when the bones were found.
-- David Ettlin