Police Claim "Life Saving Efforts" Performed, Man Dies Anyhow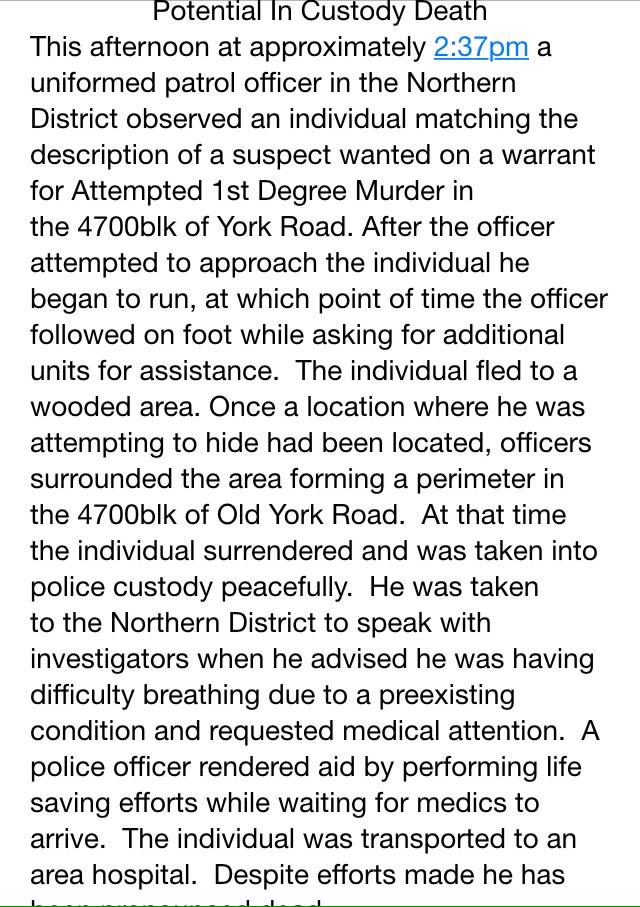 BATLIMORE -- (MINS) Less than 24 hours after
a mysterious crash
involving a car being chased by police striking a pedestrian on Greenmount Ave., we now learn of a so called "police in-custody death."
The victim has not yet been identified.
This incident happened Saturday in the 4700 block of Old York Rd., just one block off York Rd./Greenmount Ave., the now infamous Corridor Of Death.
Interestingly, although there's no dispute of the man's death, the police memo is entitled "'Potential' In Custody Death."
Despite claims of police of the man stating he suffered from a "preexisting medical condition," we eagerly await the autopsy report.
Then again, considering how things have gone with other investigations of other "in-custody deaths," namely those of Anthony Anderson, Tyrone West, and 19 year-old George King, it's doubtful whether a full satisfactory explanation may ever be gained by the victims family, or the general public.
The Baltimore Spectator
recently shared exclusive video of
Baltimore Police hesitant to render aid,
when they didn't believe a man suffering from asthma who told them he couldn't breathe.
Once again, special thanks to
Baltimore Sun
crime and courts reporter Justin Fenton, for putting information out there that few others in media will. And for opening up public police communications no longer provided to
The Baltimore Spectator.
-