BREAKING: John Spooner sentenced to life in prison for killing teen
Below is the original story on this shocking, tragic incident, being ignored by mainstream media.
Cold Blooded Killing Caught On Video As Boy Shot In Front Own House
Gunman used to choke and beat his late wife
Daughter once brought home kitten that he didn't want, he took it into the basement and killed it
John Henry Spooner, a 76-year-old Milwaukee man, was found guilty Wednesday of fatally shooting his 13-year-old neighbor, Darius Simmons, whom he suspected had broken into his home and stolen weapons.
Disturbing video taken from Spooner's own security cameras show him confronting the teen that morning. Pointing a gun at Simmons, from about 6 feet away, Spooner opens fire, shooting him in the chest. At the time of the shooting, Simmons was retrieving his family's garbage cans from the curb.
"Yeah, I shot him."
It is unclear what evidence, if any, Spooner had to suspect that his young neighbor was responsible for burglarizing his home.

Sadly Simmons' mother, Patricia Larry, saw the whole tragedy as she stood on her front porch in shock. Her trigger-happy, gun toting, next-door neighbor even briefly pointed the gun at her.
Defense attorney, Franklyn Gimbel, argued that his client did not intend for the gunshot to be fatal.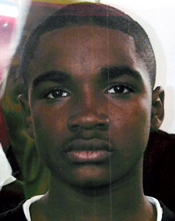 Darius Simmons, killed at age 13
After getting hit, the 13 year old tried running away, but didn't make it very far. He collapsed on the sidewalk, and soon died in his mothers's arms. Patricia Larry said
"he took one more breath and that's it."
While being arrested, responding police officer, Richard Martinez, testified Spooner stated; "Yeah, I shot
him."
Before Spooner is sentenced for first degree murder, the case is shifting to a second stage where his attorney will argue the insanity plea.
Read more.
Related articles