Disregarding A Direct Order Caused The Death Of Officer Chandler
19 January 2015
By A.F. James MacArthur
Agitator-In-Chief
@BaltoSpectator
O
fficer Craig Chandler didn't have to die. He should still be here, doing his job, working to protect the people of Baltimore. He was laid to rest Sunday.
Nearly two months after a high speed chase resulting in a horrific crash, Officer Chandler succumbed to his injuries.
Although not on the list of
the 10 most dangerous professions
, police officers and their unions often like to state how dangerous their jobs are. What is typically unsaid is much of this danger is created and perpetuated by actions of their own doing. Contrary to popular propaganda and politically charged rhetoric, more police officers will probably be killed in car crashes this year, as has been the case almost every year, than from a gunman's bullet.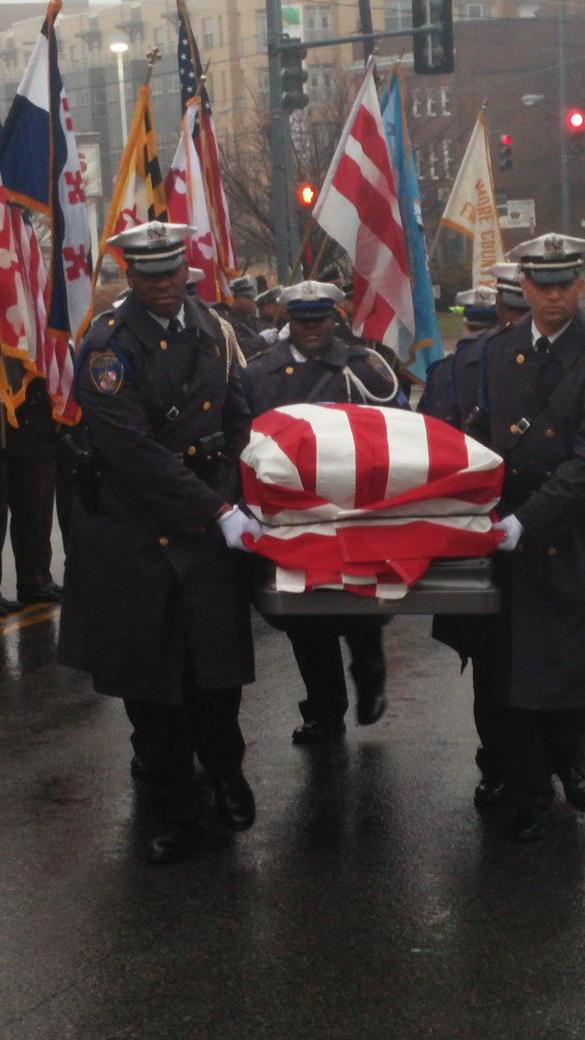 Officer Chandler's casket.
Public safety agencies operate, or are supposed to operate,
under a well defined set of standard operating procedures and protocol. When individuals choose to deviate from policy for whatever reason, it is not unusual for their actions to yield disastrous, even fatal results.
From needless destruction of property, to severe injuries of civilians, suspects, and even officers, the predictable results of officers going rogue are outcomes that are far too costly, emotionally, financially, and in other immeasurable ways.
As condolences and kind words flow in from around the nation for Chandler there's something that isn't being discussed by anyone regarding his death.
It was entirely preventable. Like so many other deaths in the past, had members of the department found it convenient to follow direct orders from a superior, Sunday's funeral might not have taken place.
When
police commanders ordered Officer Brandon Bolt to break off the pursuit
on 23 November, if he had complied with a direct order, there is no question Officer Chandler would be alive today. There is no mystery about this. The crash, which injured the moped rider being chased, Deonta Winston, 22, and the two of the three officers, including Chandler, riding in one police car, was entirely preventable.
"Far too often, officers in this department who work to make Baltimore safer are called upon to make this ultimate sacrifice...We will forever honor their memory, their diligence, their service and support their families." - Police Commissioner Anthony Batts
This isn't about hindsight and second guessing. It's about a chronic lack of discipline and leadership's failure to take charge and control of the officers of this department. The leniency and lack of sufficient discipline customarily seen when officers behave badly is squarely to blame.
Elected officials, including Mayor Stephanie Rawlings-Blake, who ultimately are supposed to have oversight of the department, have blood on their hands too. The problems permeating the entire police department are nothing new to these people, yet none have had the courage to stand up, take charge, and institute true and comprehensive reform.
Our final salute to Officer Craig Chandler #EOW 1/9/15 #BPDNeverForget pic.twitter.com/FOMLN9DQEz
— Baltimore Police (@BaltimorePolice) January 18, 2015
How many more needless deaths will it take?
Officer Chandlers death and his life of service would be appropriately honored by a city and it's police department once and for all deciding enough is enough. There is no excuse for a department operating in the way this one is. The madness must stop.
Part 2 -- FURTHER ANALYSIS
The reader is cautioned to note, the track record of chases gone bad is much more vast than what is examined here. Detailed in this analysis are just a very small sampling of numerous cases of Baltimore Police high speed chases resulting in death.
The listing is by no means all inclusive, nor does it account for the numerous pursuits that have resulted in serious, non-fatal injury, and significant property damage. They are not listed here due to space constraints.
An Expensive Lesson Unlearned
The poor discipline, moral, supervision and training within the Baltimore Police Department was well documented in a $285,000 report commissioned by the department itself. The Wasserman report, also known as
"Public Safety in the City of Baltimore; A Strategic Plan for Improvement"
was authored by an independent, outside group
.
It should have served as a blueprint for the reform so desperately needed. Sadly, since its release, there has been little evidence of any lessons learned or proper implementation of meaningful change.
The department bypassed lower bidders for the one offered by Strategic Policy Partnership LLC. A company with ties to former Los Angeles Police Chief, now current New York Police Department Commissioner, William J. Bratton. Bratton is a long time ally of Baltimore Police Commissioner Anthony W. Batts. Any connection between the two and the highest bid has been denied.
The Cost In Human Lives Continue
46-year-old Angel Chiwengo, Devell Johns, 26, and Terrell Young, 28, were all killed in September of 2013 after a 4 mile, unauthorized police chase resulted in
a spectacular collision
at the intersection of York Rd. and Northern Parkway that led to a horrific explosion. Trapped in the cars, they burned to death. The driver of the car carrying Chiwengo, 54-year-old Andrew Baker Jr., was also critically injured, but survived. Barely.
The officers pursuing in a rental car -- unrecognized by the state of Maryland as an authorized emergency vehicle, lacking a siren, markings, or other emergency equipment -- were unharmed.
Multiple witnesses said they did not hear sirens before the crash.
The four mile chase was initiated by Officer Adam Storie and Officer Warren Banks II, both assigned to the northeast district.
With speeds at times approaching 100 miles per hour, the reckless chase began when the officers thought they may have "smelled
weed" in the car occupied by Johns and Young. Recordings of radio transmissions reveal the officers were ordered to break the chase. They didn't. People died.
Chiwengo was being driven home after work by a friend, when the pair being pursued crashed into the vehicle she was riding in. In an interview with WBAL, Pascaline Chiwengo blamed the Baltimore Police Department for her sister's death stating; "They need to look into another way to chase them bad people. These people have got tags. Why not take the tag and look for them little by little? Why chase them and kill other people? Innocent people don't do nothing."
Two of the victims burned to death trapped in their car.
The Baltimore Police Department's pursuit policy prohibits officers from chasing suspects in vehicles except under "exigent circumstances," including in instances in which officers believe that failing to pursue could lead to injury or death or there isn't time for another approach.
It is unclear how suspected marijuana possession could have remotely fit the description here mentioned. No public threat has ever been articulated by individuals who's primary offense is mere possession of a narcotic.
At the time of the incident, acting police spokesman Captain Eric Kowalczyk said he did not know whether the officers had alerted dispatchers that they were following a car.
Nearly two years later, full details of just what happened haven't been revealed. It is unclear whether the investigation has concluded, nor what the final results are.
Baltimore media and the police department have largely moved on from the incident as if it never happened. History here was, and is, doomed to repeat itself.
A Perilous Pattern
In July of 2010, Haines Holloway-Lilliston, 27, a Towson University graduate, was killed after
Baltimore Police Officer Timothy Beall collided into his motorcycle from behind. He was being chased for speeding.
Occurring far out of his jurisdiction, and deep into Baltimore County, Beall maintained the unauthorized pursuit, even after he was ordered to
"end the chase"
by a commander and and he had turned off his lights and siren.
A Maryland State Police investigation into the fatal crash
revealed Holloway-Lilliston's body bounced off the hood of Beall's patrol car after being struck. However at the time, Beall told investigators the motorcyclist
"crashed out in front of him."
No criminal charges were filed against Beall.
Holloway-Lilliston's family has sued the city, mayor and the police department for his death. In a statement, the family's attorney, William "Billy" Murphy said; "For some reason, after he [Officer Beall] acknowledged the order to stop, he kept on... he was at the wrong place at the wrong time doing the wrong thing to our client."
Summary Conclusion

University of South Carolina professor of criminology, Geoffrey Alpert, was

quoted in USA Today

stating that

approximately 35% – 40% of police chases end in traffic crashes.

Alpert also says that while the National Highway Traffic Safety Administration says that

police pursuits result in about 360 deaths a year

,

the actual number is likely three to be four times higher.

There is no mandatory reporting for police chase involved deaths.
Dangerous, illegal, and reckless behavior being performed by criminal suspects, is rarely sufficient behavior for law enforcement to do the same.
In situations where the public is already being placed in great danger by the suspect, a pursuit, particularly in congested urban environments, exponentially raises the risk to all involved. The risk incurred from a high speed chase, except in the most extreme of circumstance, typically outweigh any perceived or potential benefit to the public. The same body police are sworn to protect and serve.
In far too many cases, about one-third of the time, the victims of these incidents are innocent, uninvolved bystanders.
With lack of sufficient discipline, punishment and inadequate supervision for officers, particularly those who choose to ignore well established departmental standard operating procedures, there is little reason to believe the high speed chases -- in violation of department policy -- will stop happening in the future.
Sufficient alternatives to most chases exist. These include helicopters, spike trips, even electronic counter measures to name a few. Departments need to be adamant in insisting on their use.
In most cases where chase incidents resulted in fatalities, the original suspected offense can hardly be used to justify the loss of human life. According to Professor Alpert,
"...chasing someone for a traffic offense or a property offense is not worth the risk of people's lives and well-being."
Without sweeping change and vigorous enforcement of existing policy, including harsh punishment for failing to follow them, a public already at risk from criminal offenders, stands to continue to be further endangered by their supposed protectors.
------------------------------------------------------------------------------------------------------------
Researcher, independent investigator, and entrepreneur, A.F. James MacArthur is Baltimore's most well known independent journalist contributor.

A

member of the underground news network for over 20 years. During this time, he's been a frequent subject of attack by government under the guise of law enforcement. Although closely watched and followed, he's often boycotted from being given any credit for his work by mainstream media.
----------------------------------------------------------------
Get Better Connected With Me
Email MacArthurMedia@gmail.com, @BaltoSpectator on twitter, Spreaker web radio, BlogTalk Radio, Baltimore Spectator on Facebook, YouTube channel