Young Child Among three shot near City Council President's residence on extremely violent day
By A.F. James MacArthur Ph.A.L.
Agitator-In-Chief
@BaltoSpectator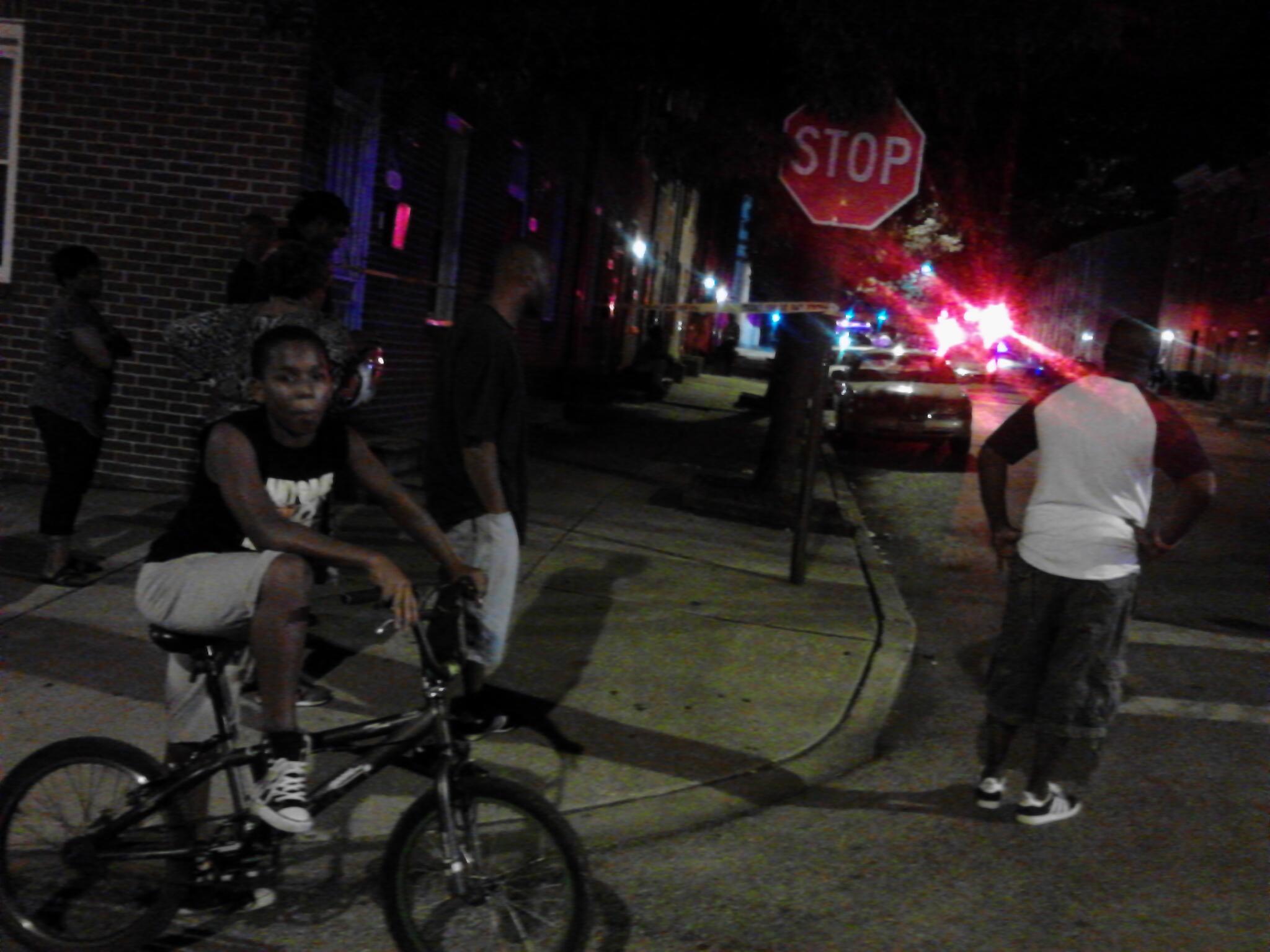 Residents look on as shooting victims being treated in
ambulances on scene, 1200 block E. Eager St. Also in picture,
far left near brick wall, is City Council President Jack
A barrage of gunfire on the 1200 block of E. Eager street wounded three people, including a child reported to be seven years old. Just before 10:00 p.m. Saturday, area residents said they heard multiple gunshots fired in rapid succession.
One of the ear witnesses was Baltimore City Council President Bernard C. "Jack" Young, a nearby resident: "I grabbed my wife and we dove for the floor. There were so many rounds being fired. Never in my life have I had to hit the floor to take cover in my own house."
The Baltimore Spectator
arrived on scene within minutes of the incident. As a large crowd of about 75 people gathered on the street, several Baltimore City Fire Dept. medic units were still present, treating the victims and preparing for transport.
Young stated this block has been relatively quiet, as he pointed out a set of newly renovated row houses for sale. Young said he's been personally involved with encouraging potential new residents to purchase and occupy homes in the area, as part of neighborhood revitalization efforts.



Baltimore Police have not released any information on a known motive, nor have they stated the condition of the victims or severity of the wounds.
On scene sources, not authorized to speak to media, stated a potential suspect --who got away driving a white sedan-- was being sought.
Newfound Cooperation Among Local Law Enforcement?
Notable on scene, was the presence of multiple agencies. Besides Baltimore Police, members of the Baltimore Sheriff's Office, including a K9 Unit and even Maryland State Police were on there.
The Baltimore Spectator observed two men handcuffed and removed from the scene by police. Police did not state their connection, if any, to the shooting.
A Bloody Day In Baltimore
Besides this incident, there were numerous other outbreaks of violence Saturday throughout the city, including a fatal stabbing.

The bloodshed comes at the end of a week that saw increased awareness of crime showing no boundaries in the city. A series of robberies in normally quiet parts of the city caused great alarm among residents. The quest for a safer Baltimore continues to be an elusive end.
Overnight Non-Fatal Shooting: Unit Block of Bentalou St. Adult male injured. Western District Detectives Investigating. #BPDWD
— Baltimore Police (@BaltimorePolice) August 17, 2013
Overnight Fatal Stabbing: 400 block of N. Montford Ave. @ 12:16 AM, Victim adult male. Homicide Detectives Investigating #BPDSED
— Baltimore Police (@BaltimorePolice) August 17, 2013
Overnight Double Non-Fatal Shooting: 3100 Oakford Ave. 2 Adult males injured. Northwest District Detectives Investigating. #BPDNWD
— Baltimore Police (@BaltimorePolice) August 17, 2013
Related articles