Popular Player A Perennial Fan Favorite
23 February 2015
By A.F. James MacArthur
Agitator In Chief
On Twitter: @BaltoSpectator
MACARTHUR INDEPENDENT NEWS SERVICE
BALTIMORE - (MINS)
A
dam Jones is without a doubt the most popular, personable, and recognizable Baltimore Oriole. His positive attitude, intensely dedicated work ethic, and obvious club house leadership is hard not to notice. He's become a household name since joining the team in 2010. Even the most causal observer -- not even necessarily a baseball fan -- knows about him. Have you ever wondered what his career options could be after baseball?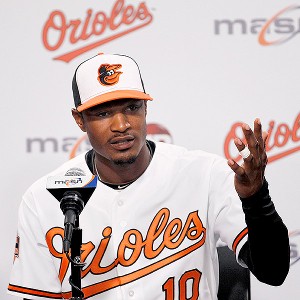 Orioles manager Buck Showalter believes Jones could have a future in politics.
"I really believe he could run for mayor of Baltimore when he is done playing... Whether he's in a tuxedo at his wedding or in a duck blind, he knows how to communicate with all people," Buck Showalter said.
Former baller Dave Bing, Mayor of Detroit since 2009
If Jones ran, he wouldn't be the first successful athlete to transition into politics.
There have been many.
Some have excelled so far in the political arena, people have long forgotten they got their start in sports.
Current Mayor of Detroit and seven time All-Star guard for the Detroit Pistons basketball team,
Dave Bing
did it.
The comments on Jones were part of a recent in depth
ESPN profile
of the four time golden glove winner, playing center field for The Birds.
Jones has had no comment or reaction on this.
With city mayoral elections just a year away, it's intriguing to think of a popular non politician, entering the fray and walking away with it all.
Last week we shared with you a fascinating snippet from ABC2 In Focus on
Sheila Dixon
and the possibility of her going back into politics, and running for her old job as Mayor Of Baltimore.
What are your thoughts?
-
-
------------------------------------------------------------------------------------------------------------------------------
As Director of the MacArthur Institute Center For Advanced Analysis and Critical Comparison; occasional media critic, researcher, independent investigator, and entrepreneur, A.F. James MacArthur is Baltimore's most well known independent journalist contributor.
A
member of the underground news network for over 20 years. During this time, he's been a frequent subject of attack by government under the guise of law enforcement. Although closely watched and followed, he's often boycotted from being given any credit for his work by mainstream media.
----------------------------------------------------------------
Get Better Connected With Me
Email MacArthurMedia@gmail.com, @BaltoSpectator on twitter, Spreaker web radio, BlogTalk Radio, Baltimore Spectator on Facebook, YouTube channel